Latest News
Details

04 August 2021
The new research collaboration between the eviDent Foundation and the University of Adelaide will facilitate dental and cross-disciplinary innovative research that can be quickly translated and put into practice to benefit the community.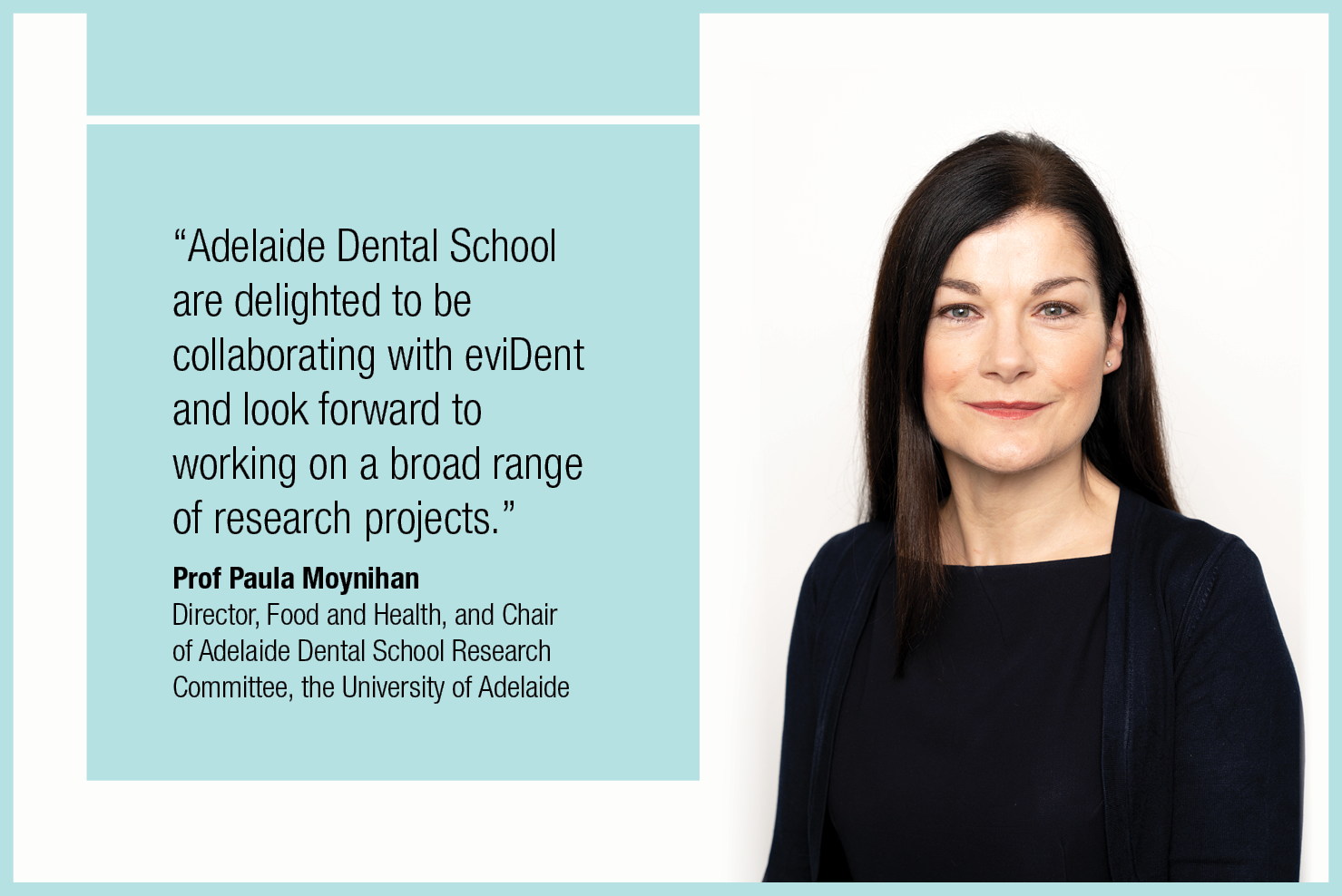 Good oral health actually improves quality of life. Good oral health gives people the confidence to be part of society without pain or embarrassment. Despite being totally preventable, tooth decay (dental caries) affects 38% of 12-14 year olds in Australia, where over 40% of adults aged 65+ wear dentures.
The speed of the translation of evidence into practice through the facilitation of practice-based research is a key strength of eviDent Foundation research. Practice-based dental research means that results are tangible, adaptable and practical. Together with the University of Adelaide's impressive research capacity - the University of Adelaide's Dental School is ranked 34 in the world, and number 1 in Australia in the QS World University Rankings by Subject 2021 - the two organisations will build on their existing research agendas to conduct research that benefits the oral and general health of Australians.
Meaghan Quinn, CEO, eviDent Foundation, said, "eviDent research leads directly to improved treatment outcomes for patients, and addresses the connection between oral and general health. Practice-based observation has the potential to help shape University curriculum by assessing the nature of service delivery within the primary care settings. In turn, the information gathered will allow us to ensure that our health care training programmes are appropriate, effective and based on state-of-the-art knowledge."
Professor Paula Moynihan, Director, Food and Health, and Chair of Adelaide Dental School Research Committee at the University of Adelaide said, "Through this collaboration we will be able to conduct evidence-based research in collaboration with dentists and oral health therapists in South Australia, addressing the problems they encounter in every day practice to ensure faster patient benefits. The collaboration will also ensure that our future dentists and oral health therapists are benefiting from the latest research findings as part of their learning."
This collaboration will continue to strengthen transdisciplinary research by facilitating research that links different components of the health system together and creating opportunities for prevention and early intervention of oral health disease.